Should I Choose Traditional Liposuction or VASERlipo®?
Posted August 01, 2022 in Liposuction
3 Minute Read:
Whether you know much about plastic surgery procedures or not, chances are that you have heard about liposuction and the dramatic improvements that this procedure offers patients.
That is because liposuction is one of the most effective cosmetic surgical procedures available. And with over 211,000 procedures performed in 2020 alone (the third most cosmetic surgery performed that year), you can see just how trusted liposuction is by patients and plastic surgeons alike.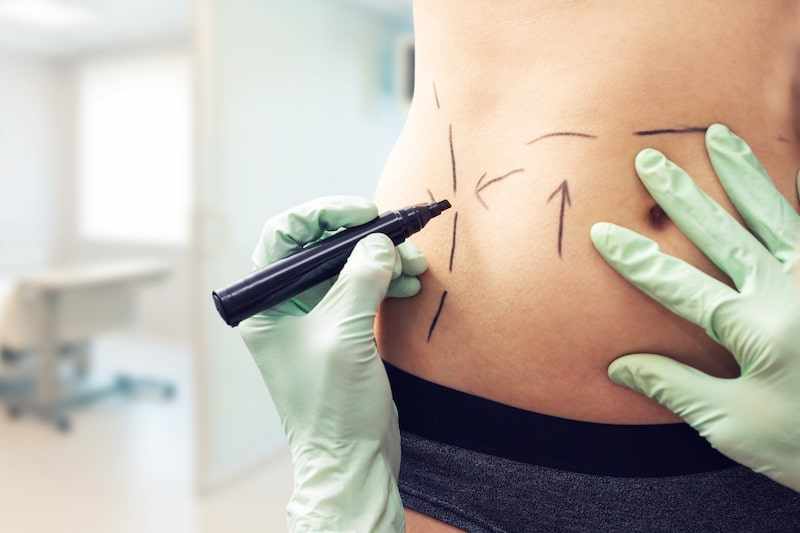 However, one of the most effective evolutions to traditional liposuction is VASERlipo®.
Below, you will find more information on both liposuction and VASERlipo® so that you can better understand which procedure is best for you!
What Is the Difference Between Traditional Liposuction and VASERlipo®?
Liposuction surgery is a cosmetic procedure that helps to rid the body of unwanted pockets of stubborn fat (this is the fat that just doesn't seem to go away, no matter how healthy your diet is or how much you exercise).
Liposuction can be performed on various areas of the body, including the arms, back, midsection (tummy), hips, thighs, buttocks, and neck.
What makes liposuction one of the most important plastic surgery procedures is its versatility.
Liposuction can be performed as a standalone procedure or in conjunction with other procedures, such as tummy tuck surgery, Mommy Makeover surgery, and body lift surgeries.
Before scheduling your liposuction procedure, it is important to understand that there are multiple different techniques that can be used.
What Is Traditional Liposuction?
Traditional liposuction is performed under anesthesia and requires Dr. Gallas to make a small incision in the skin at the treatment site. Dr. Gallas will then insert a thin tube — called a cannula — through this incision, which is used to loosen up the subcutaneous fat.
Once the fat is loosened, it is vacuumed out of your body through the cannula.
A common and effective liposuction technique is tumescent liposuction, which involves a liquid solution being injected into the treatment area before the cannula is inserted. This tumescent solution helps to break down the stubborn fat more effectively than with the cannula alone.
In the end, this technique allows for a more comfortable fat removal experience for patients, and it often allows for more fat to be removed.
What Is VASERlipo®?
VASERlipo® is a revolutionary form of liposuction surgery.
Similar to tumescent liposuction, VASERlipo® is a technique used to help loosen fat even more than with traditional liposuction. However, VASERlipo® uses ultrasound energy to separate the fatty tissue from the muscle and skin in a more comfortable and effective way than a cannula can.
In essence, the ultrasound energy liquifies the fat cells, which allows them to be vacuumed out of the body more effectively. Another positive about VASERlipo® is that it tends to be less invasive than traditional liposuction.
The VASER® technique is often used to treat small areas or areas desiring more definition as it allows for more precise contouring.
Which Procedure Is Right for Me?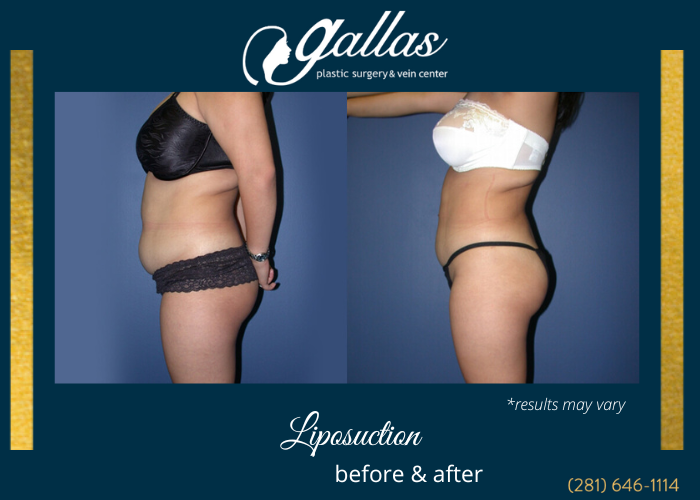 View our liposuction before and after gallery to see more transformations!
As you can see above, any liposuction technique offers stunning and transformative results. If you are thinking about liposuction as a way to achieve the contoured body that you've always desired, it is important that you have a clear understanding and idea about which technique you prefer.
Because VASERlipo® is less invasive and just as effective as (and sometimes even more effective than) traditional liposuction, many patients choose this procedure; however, at your liposuction consultation, Dr. Gallas will help you decide which technique is best and most effective for you.
Do You Want to Learn More?
If you have questions about liposuction or VASERlipo® or want to know more about any of the other procedures we offer at Gallas Plastic Surgery and Vein Center, schedule your consultation with Dr. Gallas in Katy, Texas, by calling 281-646-1114 or filling out our online form here.