Choose the highest standard
In our private Texas practice, our doctor works with our highly skilled medical staff to provide you the best personal attention and service. We take extra care to listen to your concerns, answer all your questions and thoroughly explain your condition and treatment options.
Schedule a Consultation
Mennen T. Gallas, MD, FACS
Founder & Medical Director, Gallas Plastic Surgery
Mennen Gallas MD Board-Certified: American Board of Plastic Surgery
Fellow: American College of Surgeons
Fellowship Training: Reconstructive Microsurgery, University of Texas M.D. Anderson Cancer Center
Residency: Plastic Surgery, St. Joseph Hospital
Residency: General Surgery, Baylor College of Medicine
MD: Chicago Medical School
MS: Applied Physiology, Chicago Medical School
BS: Biology, University of Michigan
Member: American Society of Plastic Surgeons, American Society for Aesthetic Plastic Surgery, Texas Medical Association, Harris County Medical Association, Michael E. DeBakey International Surgical Society
Awards: America's Top Plastic Surgeons, by the Consumers' Research Council of America; voted one of Houston's "Top Docs"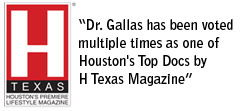 "Your surgeon should uphold the highest standards…
"This should include qualifications and credentials that are your assurance of the finest care possible. The decision to change your body is important and deserves careful consideration with the guidance of an experienced, board-certified plastic surgeon.
"As a board-certified plastic surgeon, I have extensive education, training and knowledge of the body as a whole. This allows me to better understand what can be enhanced… and changed… to have a positive effect on my patient's confidence, while it can also have an effect on the body's well-being.
"The results of plastic surgery should be what my patient expects, while at the same time I am here to ensure realistic — and safe — outcomes. Together with my patient, we create a treatment plan that benefits my patient's self-esteem, dreams and expectations.
"Personal attention is vital to my patient's experience with me. A plastic surgeon should have empathy toward the patient's wants and needs and provide an understanding of just how important a role confidence plays in one's life.
"I am honored to help my patients achieve their dreams."
Dana, Patient Coordinator
Dana joined Gallas Plastic Surgery in 2014 with over 10 years' experience in the aesthetic industry. Dana enjoys the truly remarkable experience of seeing a patient blossom on the inside and out, whether they have had a subtle, non-surgical procedure or extensive surgery. She is passionate about being an integral part of the Gallas Plastic Surgery family. Dana is proud to be a member of a staff that values providing each patient with the highest level of care, attention and commitment to help each individual reach their goal and feel their personal best. Dana will support each patient throughout the plastic surgery experience and ensure that you feel like family.
Stephanie, Professional Makeup Artist
Stephanie is a professional makeup artist that has been helping enhance  clients' natural beauty at  Gallas Plastic Surgery since 2010. Over the past 30 years, as a college student, former school teacher and mom of three, Stephanie has worked as a makeup artist, specializing in bridal, corporate, teen and everyday makeup. She believes makeup should enhance natural features without looking overdone; whether it is a look that is bold and glamorous or soft and natural-makeup is an expression of individuality.
We encourage, honor and welcome your referrals. For more information about plastic surgery services in Katy and West Houston, Texas, call Gallas Plastic Surgery & Vein Center at (281) 646-1114 today or use our online Request an Appointment form.
Contact Us
Hablamos Español
Location
Office:
21300 Provincial Blvd
Katy, TX 77450