Can Serious Breast Implant Complications Be Avoided?
Posted August 31, 2023 in Breast
4 Minute Read:
Undergoing breast augmentation surgery can be an exciting and life-changing event. Many women look forward to obtaining the voluminous and shapely breasts surgery can create.
However, as with all surgical procedures, breast augmentation carries risks. Understanding the specific risks of breast implants is essential so that you can prepare to mitigate them as best as possible and enjoy your implants for as long as possible.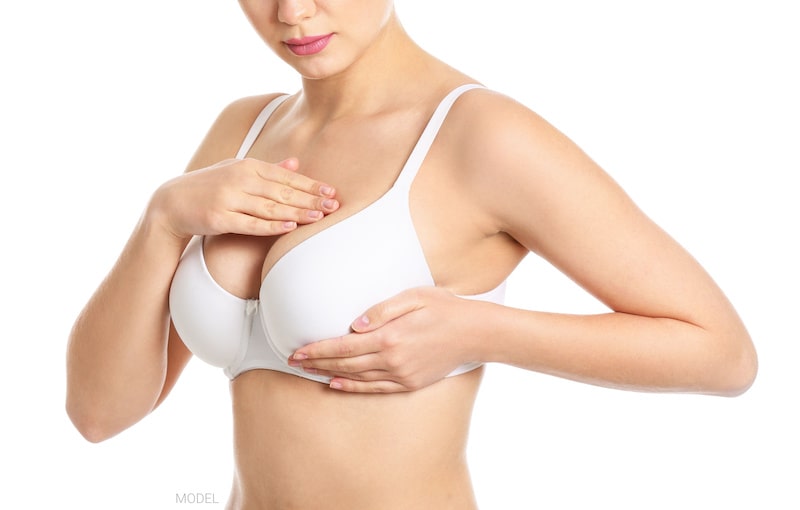 Below, we will discuss the most serious complications associated with breast augmentation surgery.
Breast Implant Illness (BII)
Breast implant illness (BII) refers to a group of symptoms that some breast implant patients experience. BII is not a medical diagnosis, and there is no scientific data directly linking breast implants as the cause of these symptoms, although many in the medical profession believe the correlation is real.
Although not understood as a medical diagnosis, symptoms of BII can include:
Joint and muscle pain
Chronic fatigue
Memory and concentration problems
Breathing problems
Sleep disturbance
Rashes and other skin problems
Dry mouth and dry eyes
Headaches
Many of these symptoms are associated with autoimmune and connective tissue disorders, like lupus, rheumatoid arthritis, and scleroderma.
As BII is not a medically recognized condition, there are currently no diagnostic tests or criteria specifically for BII. Because of this, many patients undergo tests for arthritis, Lyme disease, or thyroid problems to see if treatment of these conditions can improve their symptoms.
If you experience BII symptoms at any point after your breast augmentation surgery, talk to your board-certified plastic surgeon to assess the situation. You may need to undergo testing to rule out other conditions first.
If you think your breast implants are the cause of the issues, you have the option to remove your breast implants through breast implant removal surgery.
BIA-ALCL
You may have heard of this rare lymphoma recently, as the medical community has gained more knowledge about the links between breast implants and this rare form of cancer. Breast implant-associated anaplastic large cell lymphoma (BIA-ALCL) is a rare type of T-cell lymphoma (cancer of the immune system).
BIA-ALCL develops in the capsule of scar tissue surrounding the breast implant; it's not breast cancer. BIA-ALCL is curable in most people if it's successfully diagnosed and treated early.
Common symptoms and warning signs of BIA-ALCL include:
Swelling caused by fluid buildup in the area of a breast implant
A lump next to the implant's surface or in the armpit
Enlarged lymph nodes
Skin rash
Fever
Weight loss
Who Is At Risk for BIA-ALCL?
BIA-ALCL is most commonly found in women with saline or silicone-textured implants. Additionally, symptoms tend to develop an average of seven to 10 years after an implant has been placed, although they can appear sooner.
How to Avoid Common Breast Implant Risks
Always inform your plastic surgeon about any concerns. Breast implants are not meant to last forever, so you should be monitoring your breasts and breast implants for irregularities, pain, discomfort, or lumps regularly. 
Always monitor your health; if you feel that you have become unwell shortly after your breast augmentation surgery, talk to your doctor about possible causes.
Choose a Breast Surgery Specialist for Your Peace of Mind
The best way to avoid complications with your breast implants, whether common or serious, is to choose a board-certified plastic surgeon who specializes in breast surgeries.
Dr. Mennen T. Gallas is a leading breast specialist in Texas, having trained under Dr. Frank Gerow, one of the inventors of the silicone breast implant. Dr. Gallas has extensive knowledge of breast aesthetics, including breast augmentation, mastopexy (breast lift surgery), revisional breast surgery, and breast implant removal.
To ease your anxieties about your current breast implant safety, as well as prospective breast surgeries, Dr. Gallas will walk you through the process, provide a medical examination to ensure your health is adequate for surgery, and provide you with all the information you need to make a decision that is best for your aesthetic goals and overall wellness.
Dr. Gallas does not offer textured implants, understanding their link to complications with BIA-ALCL, as his patients' safety is his number one priority.
Breast augmentation and breast revision surgery can give you the confidence boost you need with the satisfaction you deserve. At Gallas Plastic Surgery, your happiness and safety are the highest priority.
Do You Want to Learn More About Safe Breast Augmentation Surgery and Breast Implant Revision in Katy, TX?
The team at Gallas Plastic Surgery is ready to answer any questions you have about prior breast surgeries, future procedures, and maintaining the health of your implants as well as your whole body. Call us today at (281) 646-1114 or fill out our online contact form to schedule a consultation.