When Is the Best Time for a Nose Job?
Posted July 31, 2023 in Rhinoplasty
4 Minute Read:
Many young people feel unhappy with the appearance of their noses, which can result in diminished self-confidence and an unwillingness to participate in major events in their lives.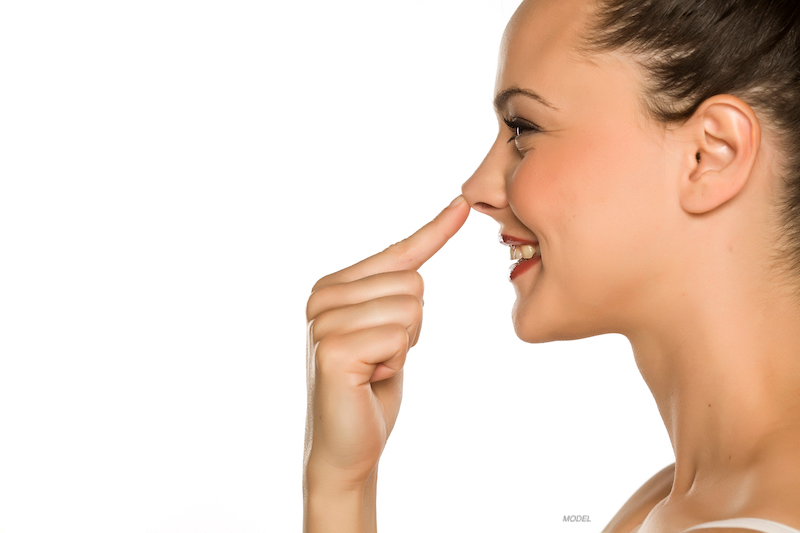 Adults can go through a similar process, making rhinoplasty an appealing surgical procedure for people of all ages. Because of that, the question remains: when is the best time and age to get a nose job?
Below, we will discuss rhinoplasty for different ages and the best time to undergo the procedure.
What Is the Youngest Age You Can Get a Nose Job?
Being a teenager is rough — and it's even worse when you find your nose unattractive. Many teenagers miss out on major life events because they feel insecure about their appearance, making teenage rhinoplasty a popular topic.
Luckily, rhinoplasty can be performed as soon as facial growth is complete as long as you are physically healthy and otherwise cleared by your surgeon.
Most plastic surgeons will perform rhinoplasty for girls and boys at appropriate stages of maturity.
What Time of Year Is Best for Rhinoplasty?
Rhinoplasty in Winter
As the weather gets cooler, undergoing rhinoplasty during winter has benefits. With less sun exposure, scarring can be minimized, resulting in better healing. If you suffer from seasonal allergies, a winter rhinoplasty may be a good option for you. It can help alleviate congestion and other irritation that may worsen during the allergy season. The approaching holiday season is another reason to consider a winter rhinoplasty. For patients making their aesthetic journey an open or family affair, it could be an opportunity for their loved ones to contribute towards the cost of their surgery as a holiday gift.
Rhinoplasty in Summer
During the summer months, younger patients and teachers may have extra time to rest and recover after surgery without worrying about exams or deadlines. Summertime time also allows patients to fully recover before returning to school or work with a fresh look and renewed confidence.
Eliminating the need to worry about exams or deadlines, and enjoying the ability to use "downtime" to catch up on Netflix or explore internship options.
Summertime timeframes also allow patients to keep their surgical plans private. New friends or colleagues will never know that you had surgery, so you can start your new journey with a fresh look and renewed confidence.
It's important for patients to consider any functional deformities or breathing issues caused by a nasal defect before considering rhinoplasty surgery. Upcoming events may play a factor for many patients to schedule surgery sooner than later so that they have enough time to heal. In certain situations, it may be better to delay taking action. Dr. Gallas will provide information to patients helping them to make the best decision of the timing of their rhinoplasty. He will also address any functional deformities or breathing issues that may influence what is done during surgery.
Is Rhinoplasty Different Depending on Your Age?
The short answer is not really. After facial growth has been completed, age is not a huge factor when considering the technique or procedure itself. Of course, individual people differ. Because of this, their procedures will be tailored to their needs; however, age does not play a difference.
Rhinoplasty earlier in life actually has some benefits. For example, making changes to the face — especially such a central feature as the nose — can be jarring. When you are in your early teens and 20s, you've had less time to be accustomed to your facial aesthetics, and your cartilage is often more pliable. If you get rhinoplasty at 16, for example, the adjustment time might not be as long as for someone in their mid-30s.
However, that is not to say that having rhinoplasty later in life is a bad idea. Choosing to undergo plastic surgery is entirely personal; if it is what you want, it really doesn't matter when you do it.
How to Plan Your Rhinoplasty
As it's been established that age is not a huge factor, there are definite ways you can make the most of planning out your rhinoplasty. Considering that the typical rhinoplasty healing process takes about 2 weeks for the majority of the swelling and bruising to disappear, you can plan around this to your advantage.
For teens, the beginning of summer is a popular time for rhinoplasty, ensuring enough time to heal before the school year starts. Rhinoplasty can be a great high school graduation present- what better way to end school and start college or a job than with a new you?
Young adults can take advantage of graduation season as well by scheduling their rhinoplasty for after college graduation and before entering the workforce.
For older patients, rhinoplasty is a great way to bookend major life events, such as before a wedding, class reunion, or after a divorce. Making the change to your aesthetic appearance can give you that major confidence boost you've been missing, allowing you to take on whatever life throws at you.
Additionally, rhinoplasty is the type of procedure that pairs well with other facial surgeries, such as blepharoplasty (eyelid surgery) or a facelift.
Want to Learn More About Rhinoplasty in Katy, TX?
Dr. Gallas offers rhinoplasty for patients in or around Houston, Texas. If you're curious to see if you are a candidate for adult, young adult, and teenage rhinoplasty, call us today at (281) 646-1114 or fill out our online contact form.