Enhancing Your Natural Beauty With Plastic Surgery
Posted June 30, 2023 in Cosmetic Plastic Surgery
5 Minute Read:
The world of beauty is changing — and natural beauty is making a comeback. More and more people desire natural beauty: bold, fluffy eyebrows, dewy skin, natural hair textures, and sheer makeup.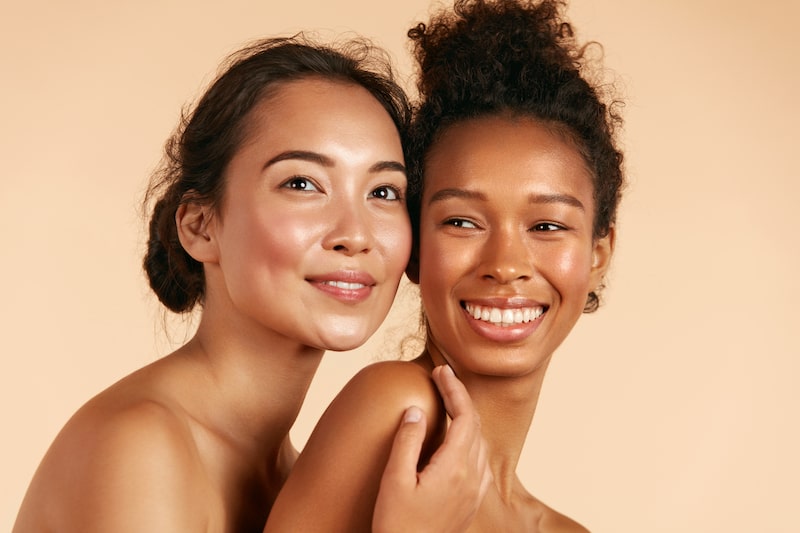 Now, it's less about covering perceived flaws and more about embracing your unique self, including making healthy skincare decisions, aesthetic treatments, and plastic surgery procedures.
To aid his patients' goals of effortless, lasting beauty, Dr. Gallas believes in enhancing natural features to help them become their ideal yet authentic selves.
How Have Plastic Surgery Goals Changed?
For years, it was common for patients to walk into our office with pictures of their favorite celebrities to ask how they would look with the same changes/procedures. While some patients still do, more and more are coming with photoshopped pictures of themselves. This shows how patients are now more interested in enhancing their own natural features instead of augmenting them to match someone else's.
While these photos can be significantly helpful, they can also be a hindrance. With so many filters and photo editing apps available, it is easy for patients to develop unrealistic expectations. Your face and body cannot be changed or manipulated as easily in real life as they can be on your devices.
Dr. Gallas focuses on bringing individuality to each patient, and he will work with you to help determine what can realistically be achieved to match your ideal results.
Increased Focus on Embracing Ethnicity
With an increased focus on "individuality," there has also been an increased focus on preserving and embracing ethnicity. While this can impact all plastic surgery procedures, it is most seen with rhinoplasty. For example, small button noses or "turned-up" noses were at one point highly sought after. These were the "nose perfection goal"; however, more individuals are taking pride in their ethnic facial features.
Because of this, more patients are looking for specific corrections like fixing a crooked nose, removing humps, and fixing asymmetries while maintaining their "ethnic" identity.
How Do You Get Natural Results With Plastic Surgery?
Where is the connection between natural beauty and plastic surgery?
It's simple: it's in the tools, the technique, and respect for the natural self. If you want enhanced features while maintaining a natural look, Dr. Gallas and our aestheticians offer a wide range of non-invasive and minimally invasive procedures at Gallas Plastic Surgery that provide subtle yet stunning results.
The Expert Touch
If you're looking for more dramatic results while maintaining a natural enhancement, Dr. Gallas provides non-surgical injectables, including neurotoxins and dermal fillers, tailored to your specific requirements.
Injectables like BOTOX® Cosmetic and JUVÉDERM® are some of the most popular non-invasive procedures to minimize wrinkles and restore facial volume — but under unskilled hands, these treatments can look less than natural.
For instance, when BOTOX® Cosmetic is performed incorrectly (into the wrong muscles), it can create a frozen or false appearance. With lip fillers, if the injector adds too much filler, the lips can look very puffy.
The key to taking advantage of the benefits of BOTOX® Cosmetic and dermal fillers while still retaining your genuine appearance is the amount of injection and the skill of your injector.
With Dr. Gallas's expert hand, you have nothing to worry about: he takes pride in maintaining open communication with his patients and encouraging them to make decisions about their own treatment. You're in charge of your beauty.
BOTOX® Cosmetic with Dr. Gallas results in a refreshed, youthful look that maintains natural movement. No one will even know that you've had any injectables at all!
JUVÉDERM® and VOLUMA® injections fill, plump, and smooth fine lines, wrinkles, and lips. With Dr. Gallas, you can achieve smoother-looking skin and restore natural-looking lips, making a world of difference with just a few injections. Additionally, these non-surgical procedures can be completed in minutes with no downtime and instant results.
It Starts With the Skin
Natural beauty goals begin with the skin: preventing acne, improving texture irregularities, and reversing sun damage.
Microneedling (Collagen-Induction Therapy)
A great way to enhance your natural features without sacrificing your unique look is to undergo microneedling. This treatment encourages collagen production and promotes skin regeneration to improve skin elasticity and achieve a youthful appearance.
Not only does microneedling improve the skin's appearance, it allows your tissues to heal and rejuvenate themselves, beautifying your skin from the inside out.
Microneedling can also aid in healing scar tissue from acne or prior injuries.
Chemical Peels
A chemical peel can refine, polish, and reveal healthy, radiant skin.
If you struggle with large pores, acne, fine lines and wrinkles, or sun damage, a chemical peel applied by an experienced aesthetician can help improve your complexion and take you closer to a healthy, dewy glow.
Real Beauty, Real You
You can achieve stunning results without sacrificing your beauty. Dr. Gallas offers a wide range of options for any enhancement concern, including body sculpting, facelifts, breast augmentations, and more — each tailored to you and your body.
For instance, many women choose breast lift surgery without implants to restore a youthful look without unnatural-looking volume. Or, for women who choose implants, many opt for more natural profile shapes.
The "bigger is better" ideal seems to be taking a backseat for many patients more focused on surgical procedures that enhance their natural beauty.
The key to natural-looking plastic surgery is cohesion — bringing all the pieces together rather than exaggerating one feature.
Ready to Embrace Natural Looking Plastic Surgery in Katy, TX?
Dr. Gallas and his team are ready to hear from you. For more information on the natural enhancement with plastic surgery in Katy, Texas, give us a call at (281) 646-1138 to schedule a consultation.