Will My Implants Change After Pregnancy? What You Need to Know
Posted January 04, 2023 in Breast Implants
3 Minute Read:
Breast augmentation surgery is one of the most popular and effective plastic surgery procedures for women, with nearly 200,000 breast augmentation procedures performed in 2020. 
For breast augmentation, either saline implants or silicone implants are used to enhance the size, shape, and volume of natural breasts. And because this is a safe and trusted cosmetic procedure, many young women (in their early 20s) undergo breast augmentation, usually before they become pregnant.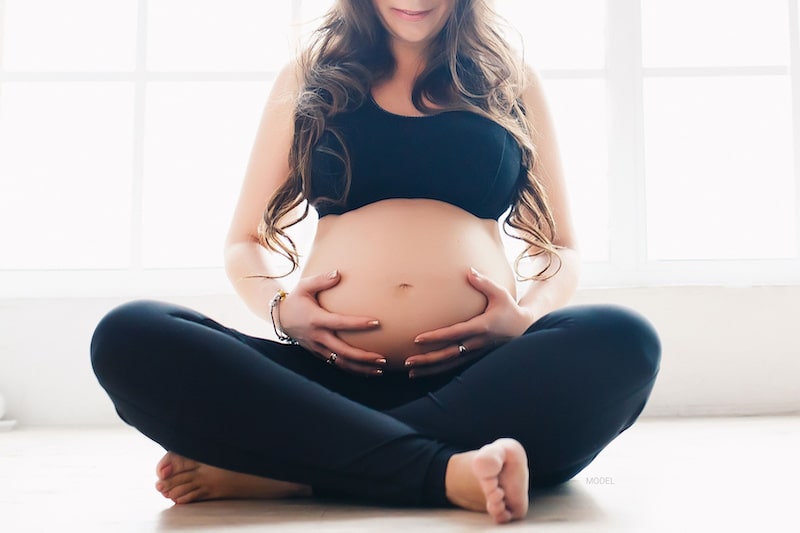 While breast augmentation offers stunning results, many women can be concerned about how pregnancy, childbirth, and breastfeeding can affect their implants and the appearance of their breasts.
Below, we'll take a look at pregnancy and its effects on your implants.
How Does Childbearing Affect the Breasts?
During pregnancy and after childbirth, breast tissue and fat within the breasts will undergo a natural enlargement with hormonal changes and milk production. The breasts become heavier and denser with the presence of milk, and this will last throughout the months (and years) during which you breastfeed. Once you stop breastfeeding, however, your breasts will reduce in size, as the milk production slows down and inevitably stops. This process can result in several aesthetic changes to your breasts, including deflation of the breasts and sagging breasts.
When this happens, women can find themselves feeling self-conscious and frustrated about the appearance of their breasts and body.
How Are Breast Implants Affected by Childbearing?
While the breast tissue expands and then subsequently reduces in size, resulting in changes to the breast size, shape, and volume, childbearing has no effect on breast implants.
However, women with breast implants can still find their breasts negatively changed after they are finished with breastfeeding. And while this can be upsetting to many women, the good news is that there are different cosmetic procedures that can help to restore the look and feel of the breasts so that women can achieve the breast appearance they desire.
What Procedures Can Help Correct Aesthetic Issues to the Breasts After Childbirth?
Whether you choose to breastfeed or not, your breasts can change in ways that you do not want. If this happens, there's no need to worry about your implants, as they will be unaffected, and subsequent breast surgeries can help correct any unwanted adjustments.
Breast Lift
Breast lift surgery (mastopexy) is a popular procedure for both women who have undergone pregnancy and for women who have not. That is because age and pregnancy can both take their toll on the perkiness of the breasts. Sagging breasts can be unattractive, but a breast lift repositions breast tissue and fat to raise the level of your breasts to a higher and more youthful level.
Breast Revision
Breast revision surgery is a cosmetic procedure in which breast implants are removed or replaced with new implants (either the same size and shape or different).
For this procedure, Dr. Gallas will usually use the same incision location as your initial breast augmentation to keep you from having any new scarring. Once the incisions are made, Dr. Gallas will remove the original implant and then either close the incisions or insert a new implant.
Depending on the extent of correction needed, some women choose to combine a breast lift with their breast revision. Other women choose to combine other cosmetic procedures (such as tummy tuck surgery and/or liposuction surgery) to their breast procedures in a Mommy Makeover procedure.
At your consultation, Dr. Gallas will evaluate your condition to help you decide which procedure(s) is best for you.
Want to Learn More?
If you have questions about breast augmentation, breast implants, or any other procedures we offer at Gallas Plastic Surgery and Vein Center, schedule your consultation with Dr. Gallas in Katy, Texas, by calling 281-646-1114 or filling out our online form here.