West Houston Plastic Surgery | Se Habla Español!
Posted March 15, 2023 in Choosing a Plastic Surgeon, Cosmetic Plastic Surgery
3 Minute Read:
Our Gallas Plastic Surgery family loves serving a diverse community and is happy to introduce our new patient coordinator, Monica Alvarez.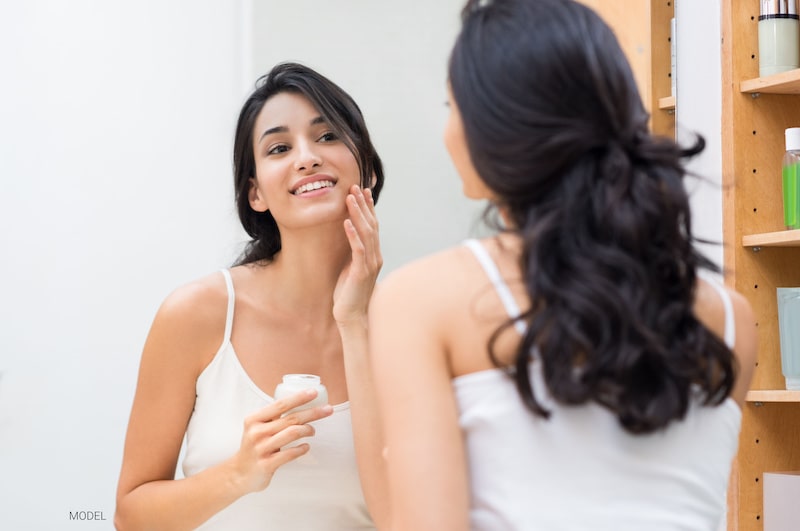 Monica, or as we call her "Moni," is smart, helpful, friendly, and speaks fluent Spanish. We feel blessed and overjoyed to have Moni on our team and are thankful that she has joined our West Houston plastic surgery practice.
Get to know her better by watching this short video she made just for you.
Follow her on Instagram for any future updates, specials and events.
For Our Hispanic Patients
All of us at Gallas Plastic Surgery appreciate our current and future Hispanic patients, so we are happy that you will have the option to speak in your native language (even if it's English). Dr. Gallas feels that your comfort is important, not only during a procedure but when communicating with his staff as well.
Please don't hesitate to ask to talk to Moni if speaking in Spanish makes you more comfortable or if you feel it will help avoid any confusion on your part or ours.
Offering the Most Popular Plastic Surgeries in West Houston, TX
Our West Houston, Texas, board-certified plastic surgeon specializes in cosmetic procedures that are in high demand, including the following:
Breast Augmentation
Desiring an increase in breast size continues to be the most common motivation for women seeking plastic surgery. Dr. Gallas can help with many cosmetic breast concerns, including:
Long-term dissatisfaction with naturally small breasts
Pregnancy, breastfeeding, and weight loss-related volume loss (deflated breasts)
Self-consciousness because one breast is visibly smaller than the other (asymmetrical breasts)
Tummy Tuck
Significant weight loss and pregnancy can cause loose skin and muscles around the midsection. A tummy tuck (abdominoplasty) offers the following benefits:
A slimmer waist
Elimination of loose skin
Removal of residual abdominal fat
Tighter core muscles
Dramatic body contouring results
Liposuction
For stubborn pockets of fat without skin laxity (loose skin), liposuction (liposculpting) is an effective and minimally invasive body recontouring solution that offers these advantages:
It's still the fastest method to remove diet and exercise-resistant fat
Versatile enough to be used on almost any part of the body
Provides advanced fat removal technology with tumescent liposuction or VASERlipo®
Mommy Makeover
A Mommy Makeover can help patients who've had one or more children or lost significant weight achieve dramatic contouring results quickly. This individualized surgery involves a combination of two (and possibly three) of the following cosmetic procedures:
Rhinoplasty (Nose Job)
Dr. Gallas also provides a wide range of cosmetic facial procedures in West Houston, one of the most popular being fully customizable rhinoplasty. A nose job can help patients with one or more of these concerns:
Bump in the nose
Upturned or drooping nasal tips
Flared or narrow nostrils
A crooked nose
Difficulty breathing
Non-Surgical Cosmetic Treatments in West Houston, TX
The Medspa at Gallas Plastic Surgery & Vein Center provides non-surgical cosmetic treatments such as:
BOTOX® Cosmetic
Facial fillers like JUVÉDERM® and JUVÉDERM® VOLUMA® XC
Chemical peels
Facials
Professional make-up services for special occasions
Hablamos Espanol at Our West Houston Plastic Surgery Practice
We hope you'll give Gallas Plastic Surgery a chance to show how we celebrate our Hispanic patients by providing top-level surgical and non-surgical cosmetic care.
Monica Alvarez, the rest of our helpful staff, and our compassionate, board-certified plastic surgeon invite you to call (281) 646-1114 to learn more about Gallas Plastic Surgery, located in Katy, Texas.